This week's edition of Twisted Mix-Tape Tuesday is a free for all. I promise that there are no scary videos of men in banana skirts or The Village Idiots in Mom Jeans or French Death Metal mimes or any other bad videos that represent my demented and twisted sense of humor and definition of "scary".  I decided that my topic of choice would be songs from my 'tween years. Why? Because my 'tween years kicked your 'tween years' ass.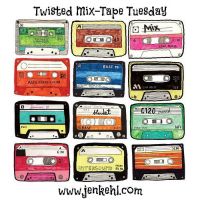 When people hear the phrase "'tween years", they usually think of prefabricated boy bands and pop-princesses or stars from Disney Channel shows who sing banal pop songs covered with a generous helping of Autotune.  And in a way, this is true. At least in 2013. I don't think the 'tween demographic actually existed when I was in that age range, which was actually a good thing.
'Tweens are kids who are around the ages of nine to twelve and the 'tween demographic is a very lucrative one. 'Tweens are responsible for the bubble gum music from the 1960s (which I secretly love mostly because it's fun, yet seriously cheesy), the teen idols of the 1970′s and 1980′s, and the plethora of boy bands that showed up in the 1990′s.  'Tweens are also responsible for Justin Bieber, too.
I happened to be a 'tween from the years of 1979-1982. Most of us didn't have cable then, and I don't know if the Disney Channel even existed, but one thing was certain; there was a new cable channel that debuted during this time that would change the course of music, for better or worse, forever.
[Insert cranky elderly person voice referring to in their day, 24/7 and music videos here. Add emphatic fist thump and the declaration that we liked it.]
I was fortunate enough to have 'tween idols who were real musicians. And for that reason, my tween years kick your tween years' ass.
Exhibit A:  Edge of Seventeen-Stevie Nicks
I can't think of a girl my age who wasn't in love with this song. It was released in 1981, so I would have been 11 years old.
Exhibit B:  Crimson & Clover -Joan Jett & the Blackhearts
Yeah, I could put up a video of I Love Rock 'n' Roll, but that's too easy. I was in the sixth grade and I was around twelve when I discovered Joan Jett. I had a girl crush on her and she, by simply doing what she did and loved, told me that it was okay for me to be tough and strong.  Years later, she would be referred to as "The Original Riot Grrrl" as she influenced a lot of female musicians, particularly those who were part of the Riot Grrrl movement in the early 1990s.
Instead of the obvious, I decided to go with this song. I always liked her version and at that time, Joan hadn't come out yet, and I never questioned her keeping the lyrics the same at the time, because I knew this was a cover of the Tommy James & the Shondells' song and I'd seen the Greatest Hits lp commercial enough times to know that those were the actual lyrics.
Exhibit C: Can't Stop the World-The Go-Go's
The Go-Go's were also very popular around the time I was in the 6th grade (1981-82) and they also made a very huge impression on me because they were a band and they played their own instruments. Plus one of the members shared a first name with me. All-female bands were still kind of a novelty in the early 1980′s.  Around the same time, I had the opportunity to take band in school. My grandfather gave my mother a piano, too, so not only was I forming my musical tastes, I was learning how to play, too. (I'm a self-taught piano player, but I haven't played in years.)
So when I wanted to play the drums when it came time to choose an instrument for band, I was told "No. Girls don't play the drums."
I wasn't buying any of that. Not when I owned 45s from a band who had a female drummer. And not when there were other girls who took up and played the drums who were older than me and already in band.
They should have said, "No, because we don't want the racket."
This is a "B" side to We Got the Beat. I think I played this song as much as played the A side.
Exhibit D: Kids in America-Kim Wilde
While Stevie Nicks was the ethereal goth/wiccan chick, Joan  Jett was the rocker, and the Go-Go's represented a hybrid of old school surf music and punk rock, Kim Wilde represented New Wave.  Even without seeing the music video, the song had an urgency about it and a hook that caught my attention.
On a related note, I always wondered why West California was not included in the New Wave that Kim warned us was coming. Were they not good enough?
Sadly, this song about a new wave and a coming change is now used to give kids a sense of entitlement to eat processed food.
Exhibit E: Hell Is for Children (Live) -Pat Benatar
I have a picture I saved to my computer with the following quote from Pat Benatar: "Most chick singers say, 'If you hurt me, I'll die'…I say, 'If you hurt me, I'll kick your ass.'"
Pat Benatar was the other strong female pop culture figure who made a very strong impact on me from the ages of 9-12.  Before the cheesiness of the Love is a Battlefield video, Pat Benatar was a tough chick who made it quite clear that you'd better not mess around with her.  When I saw and heard her, I knew it was okay to be a strong woman, even if I didn't know how to do that quite yet.
I had a difficult time trying to pick out the one song of hers that spoke to me the most. I like different songs of hers for very different reasons.  This particular song is personal. (By the way, "Hell is for Children" was the title of a newspaper article about child abuse and the song isn't advocating child abuse; rather, it's about what children who are abused go through.)
Ladies and gentleman of the jury, if you are still not convinced that my tween years kicked your tween years' ass, I present the following evidence:
Honorable Mention
Atomic  -Blondie
If Debbie Harry can't convince you that my 'tween years were better than yours, there is no hope for you. It also means that we can no longer be friends.
Bonus Song: Special Care-Fanny
I would be remiss if I did not include a song by the 70′s all-female band that most people have never heard of, Fanny.  This band influenced my 'tween idols, who in turn, influenced the girls of my generation to take up instruments and form bands like The Pixies, Sleater-Kinney, Bikini Kill, and L7, who then in turn influenced more girls to pick up instruments and form bands.  Fanny is sorely under-rated and under-appreciated. I definitely believe they were ahead of their time. I also definitely believe that they deserve a place in the Rock and Roll Hall of Fame, just for the fact that their influence and inspiration sent girls the message that rock 'n' roll bands were not just for the guys.  Ladies could rock out, too.